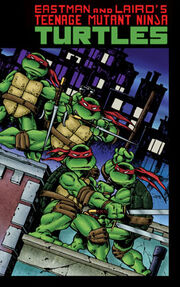 Teenage Mutant Ninja Turtles
, also known as
Eastman and Laird's Teenage Mutant Ninja Turtles
, is a live-action television series from the creators of such live-action television series as Smallville and Arrow. Like the original Mirage comics, the turtles all start out with red eye masks until the first episode of season 2, "
Return to New York
", where Splinter gives Leonardo, Michelangelo, and Donatello their own eyemasks in their favorite colors, blue, orange, and purple, because he thinks they have earned it.
Characters
Edit
Main characters
Edit
Garrett Hedlund - Leonardo
Dane DeHaan - Donatello
Andrew Garfield - Michelangelo
Justin Hartley - Raphael
Tadanobu Asano - Master Splinter
Kristen Bell - April O'Neil
Taylor Kitsch - Casey Jones
Jamie Foxx - Baxter Stockman
Ken Watanabe - Oroku Saki/Shredder
Dwayne Johnson - Rocksteady
Morris Chestnut - Bebop
Recurring characters
Edit
Jackie Earle Haley - Rat King
Wesley Snipes - Leatherhead
Mitchell Musso - Mondo Gecko
The Mousers
Tom Hardy - General Traag
Tom Kane - the voice of the Fugitoid
Linda Cardellini - Irma Langinstein
B.J. Novak - Vernon Fenwick
Jack Black - Burne Thompson
Main Article: List of Teenage Mutant Ninja Turtles episodes
Ad blocker interference detected!
Wikia is a free-to-use site that makes money from advertising. We have a modified experience for viewers using ad blockers

Wikia is not accessible if you've made further modifications. Remove the custom ad blocker rule(s) and the page will load as expected.