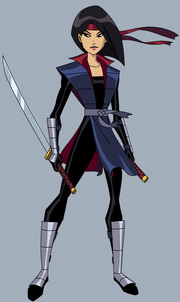 Karai's adventure is a spin off of the TMNT(2003) series. It takes place in Back into the sewers.
Karai has decided to become a hero and saving innocine lives in New York along with Dr Chaplin and fighting villains like Hun, Baxter Stockman, and some physic alien beings.
Karai's adventure episodes

| Episode titles |  Episode numbers |  Episode description |
| --- | --- | --- |
| It's ninja girl time |  1 | Karai gets captured by Hun. |
| The date |  2 | Dr. Chaplin wants to ask Karai out for a date.  |
| Mother Mushi | 3 | Karai encounters a woman with motor skill manipulation.  |
| The dancing ninja |  4 | Thanks to Dr. Chaplin's old invention,  Karai keeps dancing uncontrollably.  |
Screen caps
Edit
Ad blocker interference detected!
Wikia is a free-to-use site that makes money from advertising. We have a modified experience for viewers using ad blockers

Wikia is not accessible if you've made further modifications. Remove the custom ad blocker rule(s) and the page will load as expected.