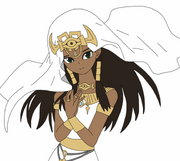 Ahsoka is a female egyptain princess of Pharaohs from Teenage Mutant Ninja Turtles ( 2012 ).
Appeared    
Edit
She is 17 year old with golden eye necklace in white dress with white cloak. Her eyes is dark green and light green when she was child
Personality
Edit
Ahsoka's mother died after giving birth and her father has disappeared into her home of Pharaohs. Ahsoka has moved to new home and met Raphael. When she was became first arm of Isis' wings, But Ahsoka has a first love of triangle. When she was baby, she was adopted by Leonardo.
Ad blocker interference detected!
Wikia is a free-to-use site that makes money from advertising. We have a modified experience for viewers using ad blockers

Wikia is not accessible if you've made further modifications. Remove the custom ad blocker rule(s) and the page will load as expected.